Instructors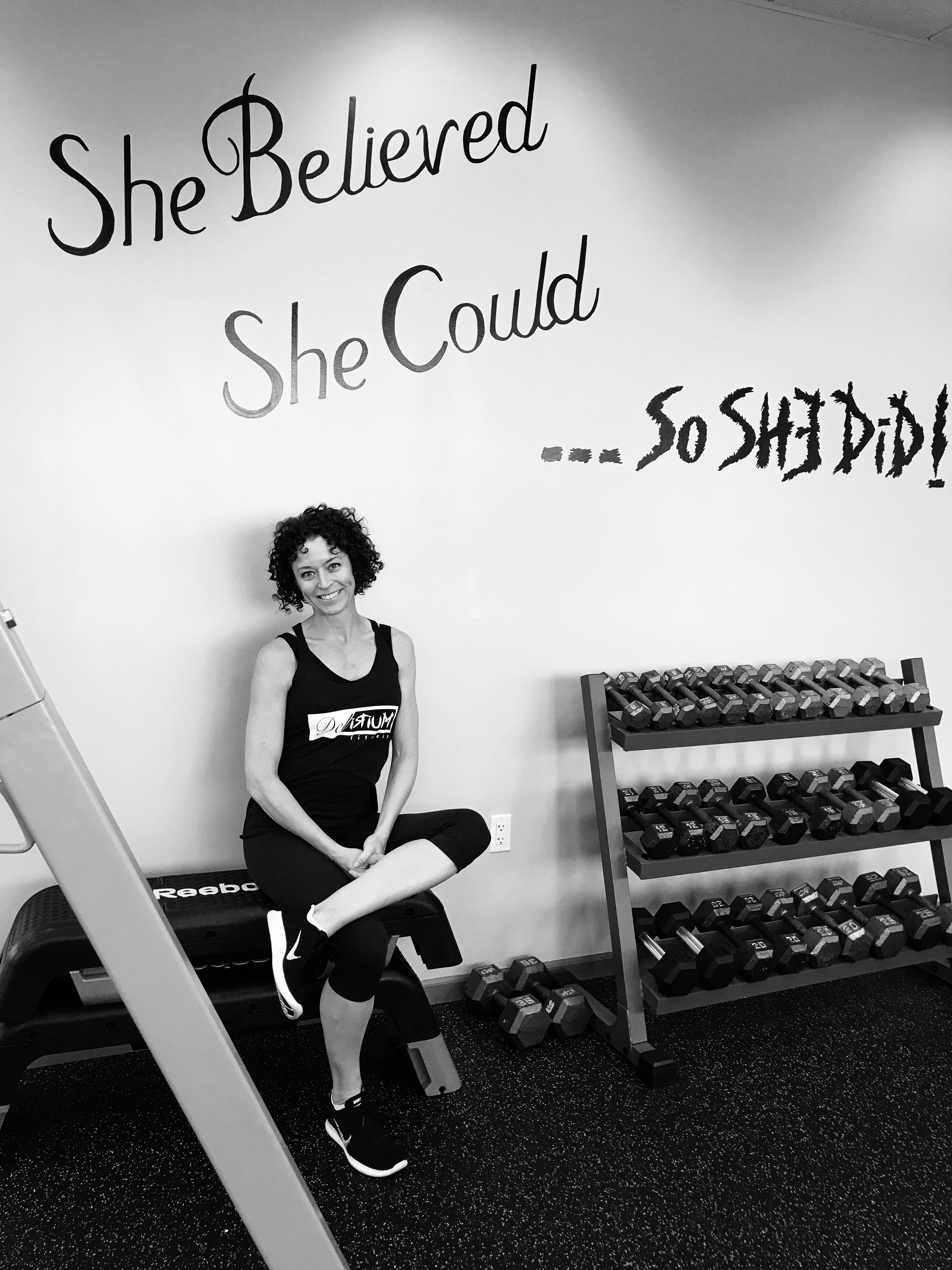 Delaura "Del" Baldwin
"The One With the Vision"
Owner, Fitness Director, Master Coach
Certifications: NPTI Personal Trainer & Nutrition Consultant, AFA Group Fitness Instructor, Keiser Cycling Certification
Founder of Delirium Fitness, Del Baldwin, found fitness as a second profession. After getting laid off from her corporate job at age 35, she decided to start running & focus on getting fit.  She loved the way being fit made her feel stronger & able to do things she never thought she could.  Wanting to share the way she felt with others, she decided to pursue training as a career.  Del attended National Personal Training Institute & received National Association of Sports Medicine-approved diplomas in Personal Training & Nutrition Counseling in 2009.
She began teaching classes outdoors in Southern California, & purchased a successful business. She had a support staff of five other instructors & over 120 members in 3 locations.  She ran this business for four years & doubled the sales.  During this time, she became more passionate about being a trainer.
After moving to Michigan, she taught at several places to get a feel for the new fitness climate: University of Michigan, Liberty Athletic Club, Workout 1, Saline Rec Center & OrangeTheory Fitness.  She also began to take on some personal clients in her basement.  Soon, the business in her basement grew to 20 women taking classes together & supporting one another.
Delirium Fitness took on a life of its own!   After eighteen months, the business outgrew the basement & Del sought a partner & new studio space to better serve the community. After one year, she & her partner purchased an existing cycling studio & moved it to their location, doubling the size & tripling the clientele. Delirium now hosts cycling, circuit training & yoga classes. There are ten instructors. Del is so thrilled to have the opportunity to be able to serve & assist her members in their journey to be better, stronger, & more confident.
Lynn Bahena
"The One Who Makes it Happen"
Owner, Administrative Director, Coach
Certifications: NASM Certified Personal Trainer, Keiser Cycling Certification
Lynn grew up active, participating in various sports throughout her young life.  In middle school and high school, she gained a love for competitive sports and participated in swimming, volleyball, field hockey, and track and field.  Her main focus was running where she was a high school regional champion and state finalist sprinter (fun fact: she still holds a high school record many, MANY years later!)  Her love of running and fitness continued into her adult life, and she turned from sprinting to endurance events, participating in 5K, 10K, half-marathon and relay races.  As a former high school teacher, she also continued involvement in competitive sports as a track and field and field hockey coach.
Shortly after moving to Ann Arbor to raise her family (Lynn has 2 young boys) and work part-time as a mathematics teacher, she found herself in need of two things: a new fitness studio and friends – she found both when she joined Delirium Fitness.
Recently, Lynn decided it was time for a change and began searching for new career opportunities.  At the same time, Del began searching for a way to grow Delirium Fitness, and the two decided to join forces.  Within three short months, Lynn became a NASM Certified Personal Trainer, co-owner and the Administrative Director of Delirium Fitness and couldn't be more excited about her new-found career!  She is looking forward to learning and growing as a trainer and also leading training programs as the studio's running coach.
"I've finally found my path in life and a career where I wake up excited to go to work every day!  I am passionate about helping others and strive to help empower other women through fitness!"
Kara Stolz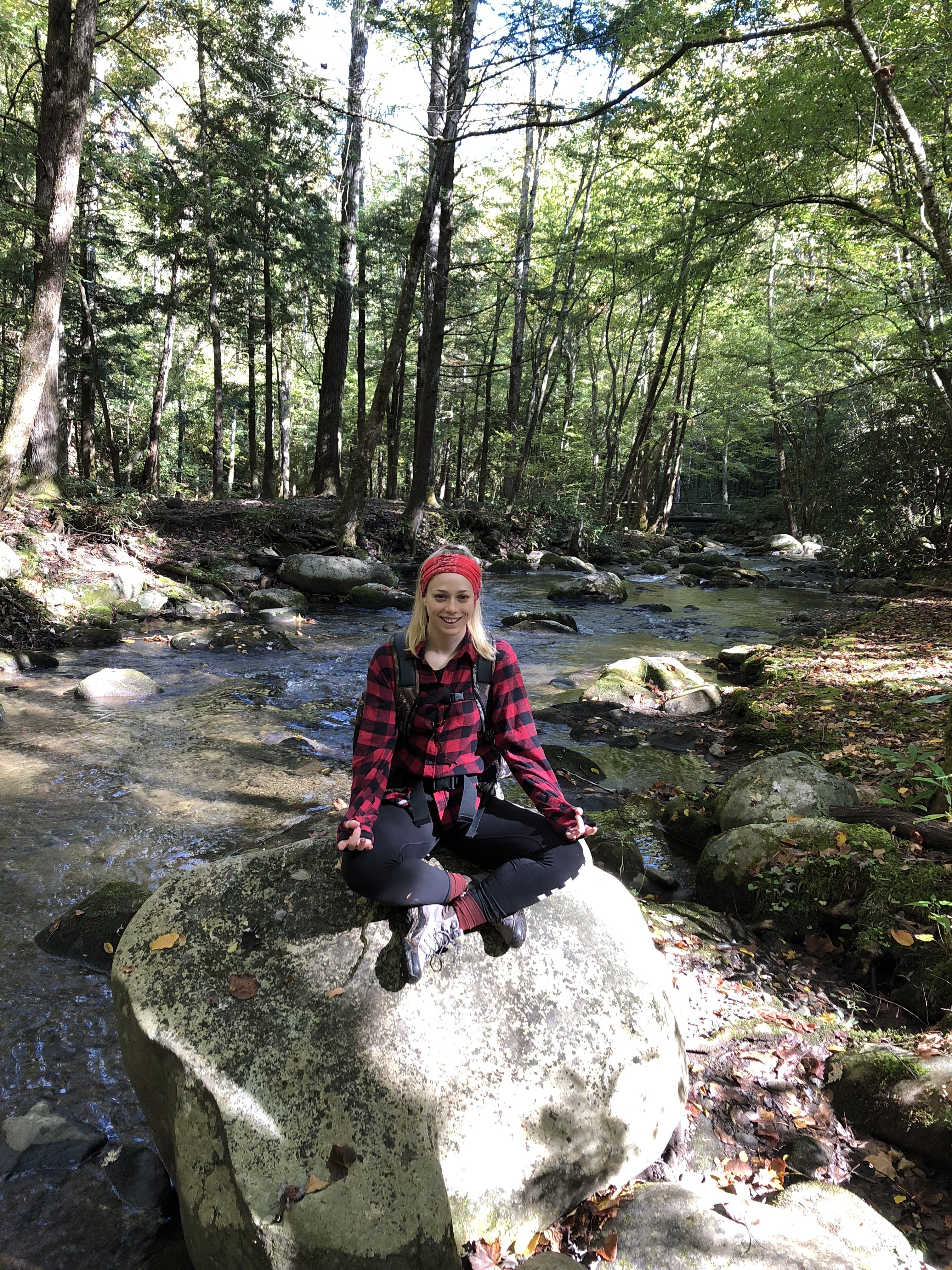 Certifications: NASM Certified Personal Trainer, AFAA Group Fitness, Yoga Alliance Registered Yoga Teacher (200 hours)
Growing up, Kara found her home in competitive sports- excelling in travel soccer and balancing a very active life.  Then the working world hit her… After years of dead end jobs and unfulfilled dreams she really wanted to make a complete lifestyle change- she took a leap of faith and pursued her goal to not only better herself, but to help others achieve this goal as well.  Kara's passion for healthy living and desire to share this lifestyle lead her to pursue her personal training certification through the National Academy of Sports Medicine. Kara hopes to turn her passions into a way of helping others achieve their goals and find success within themselves. In addition to her personal training certification, Kara holds an AFAA Group Fitness certification and is a 200 hour Registered Yoga Teacher through the Yoga Alliance. An organic and natural living enthusiast, Kara truly believes that a healthy body makes a healthy mind, equaling a healthy soul.  Kara loves connecting with her students and seeing them make changes to better lives each time they show up in the studio.
When Kara isn't training her clients or teaching yoga, she can be found in the kitchen creating healthy meals for her family, exploring the great outdoors, or cuddled up with her husband watching a good thriller.
Brigid Lossing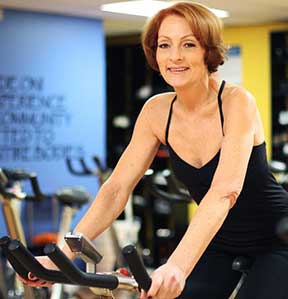 Certifications: Keiser M3, Madd Dog Spinning
Brigid Lossing had a more difficult road to health and fitness than many of us. Not only did Brigid turn her entire life around in terms of her weight, her diet, and her fitness, but she has successfully battled cancer – twice.
Brigid considers herself a coach to her indoor cycling clients, striving to inspire Ryders to investigate their potential, set goals, then find pathways to achieving them. "There are many subtle nuances involved in cycling. When planning a Ryde, I strive to highlight one or two aspects so participants will leaving feeling as though they have gained a little more knowledge and are working their way toward mastering specific skills."
Brigid developed the concept of Training for Life as a focus for RydeOn!'s work. To her, Training for Life means that it's important for everyone to embrace the idea of "training" as something that's not just for athletes. "Consider all the physical activity we engage in on a day-to-day basis. Then think how much better we will feel when we can move through our day without aches and pains. How wonderful to be able to go up and down stairs without being winded!" Through her blog series, "The Keys to Success in Health and Fitness," Brigid has created a complete guide – one that goes far beyond indoor cycling – to help clients reach their goals
Sharon Hillenaar
Certifications – Mad Dogg Athletics Spinning® Instructors certificate; CPR; Human Resource Management (McGill University)
Originally from Montreal, Canada, Sharon Hillenaar has had the good fortune of being able to live in 5 different countries over the last 10 years; the US being her most recent relocation. Whilst living overseas Sharon had her own craft supply import/export business, she to fostered a love for health and fitness with many hours of training for 1/2 marathons and attending cyling classes; her two favorite activities. After selling her business in 2013, she soon found herself longing to get involved in the health and fitness industry. Often thinking of her mother's advice of "following your heart and the rest will fall into place" she enrolled in a Spinning® course and became a certified Spin® instructor.
"Helping others to achieve their goals is so rewarding for both the individual and myself. It is an intrinsic part of who I am and being able to play a role in guiding individuals towards health and wellbeing provides me with so much happiness."
Training for Life is about setting yourself up for long term success with realistic goals and determination. Providing tools, ideas and support to make that success a reality is what helps feed that long term goal and that's what Sharon believes her biggest role is within the health and fitness industry. "Seeing proud, smiling confident faces is what I hope will be the end result of any training support I provide".
Andrew Weeden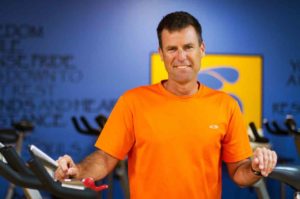 Certifications:  Sydney Technical College Associate Diploma in Nuclear Medicine, Mad Dogg Spin Instructor, CPR.
Andrew went for his Mad Dogg Spin certification and joined the RydeOn! team because his wife (and RydeOn! instructor), Jocie, encouraged him. Since then he's found his RydeOn! experience so motivating that, when the weather permits, Andrew rides his bike to and from the classes he instructors – for a total thirty-five mile ride!
Saying that "You have to have fun working out!," Andrew sees himself as a coach, motivator, spinning technique advisor and "entertainer" who believes good fun is a major key to good health.
When it comes to Training for Life, Andrew finds it an easy concept because he and Jocie use indoor cycling as a cross training tool for their running. "Spinning is so easy on our joints while also engaging our prime running muscles."
In the past year Andrew has improved his half marathon time to less than eight minutes per mile, and completed his second marathon at the end of September at a sub-nine minutes per mile pace  – "A race distance I said I would never run!"
Jocie Weeden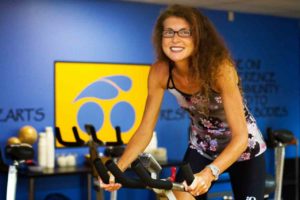 Degrees and Certifications: BA, DDS, M.S., Madd Dog Spin Instructor, CPR
Jocie is yet another of our indoor cycling instructors who has chosen to pursue health and fitness as her profession as well as her passion – in Jocie's case, she has her own orthodontic practice in addition to her work with our studio.
She also practices what she preaches when it comes to her health and fitness journey. Jocie says that a main component of her fitness philosophy is to keep the company of like-minded friends. She has definitely done so, running almost daily with her office staff and encouraging her husband, Andrew (who is also one of our instructors), in his own running efforts.
Jocie reports that Training for Life is, "incorporated into all of my training routines. … Anyone who gets into a good fitness routine knows how great it can make you feel and how much better other aspects of your life become when you are healthy."
Jocie has been very busy in the past year, completing her first full triathlon, the Full Rev, at Cedar Point (where she won for her age group!), completing the 6.2 mile Swim to the Moon, and running five half-marathons, the Ann Arbor marathon, and an fifty-mile ultra-marathon in Florida. She is currently training for a 100-mile ultra-marathon, and says that "Spinning has helped my running tremendously. I recommend spinning as a training routine for all runners!"
Nicole Porter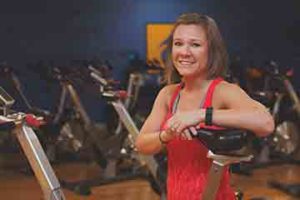 Certifications – Mad Dogg Spinning
Nicole has been a client at RydeOn! since shortly after the studio opened in 2011. She earned her Madd Dog Spinning certification in May 2015.  After participating in the RydeOn!Tour de France challenge in the spring of 2012, Nicole became hooked – so much so that her fiancé proposed at RydeOn!during the New Year's Eve 2013/2014 ride!
Indoor cycling has driven her to make other changes, including running her first 5k and 10ks last year with plans for more this year (something she never saw herself doing), and becoming involved with a local Wish A Mile team who rides at the studio as well.
Melissa Miller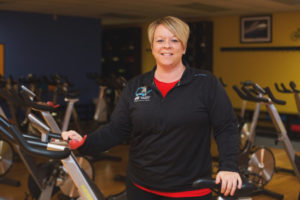 Certifications – Mad Dogg Spinning, Keiser M3, CPR
I began taking classes at RydeOn! shortly after the studio opened in 2011.  I had always wanted to see what all the buzz was about! As soon as the class started, I knew exactly why people loved spinning. The instructors, atmosphere, energy, music, and the hard work, I was hooked! In 2012 I decided to get certified to teach so I could help and share in peoples' journey to better themselves.
I have always been into athletics since I was young and when I started going to classes at RydeOn! in 2011 I had also started training for my first 5k. I thought spinning would be a great way to compliment my training and prevent injury. Many races later, from 5k's to half marathon's and even a full marathon scheduled in late 2017, spinning still is my go to exercise for cross-training.
If you have ever felt hesitant to try something new like spinning, RydeOn! is the place to go for your first experience. The bikes are top notch quality, the instructors are knowledgeable and motivating in their own different ways, and the other clients are incredibly supportive. You will feel right at home the minute you walk through the door.
For me, Training for Life, means finding something you enjoy and produces results so that you stick with it. Something that pushes you to be the best version of yourself day in and day out. There is nothing more rewarding for me as an athlete and an instructor to see people working hard and accomplishing things they never thought they could do.
Believe you can a you're halfway there!
Hilary Kneisler
My journey into the world of indoor cycling began in the fall of 2016 right here at RydeOn!  A past knee injury combined with a fair amount of boredom with the elliptical trainer at the gym gave me the motivation to give indoor cycling a try, despite having little to no knowledge of the concept of "spinning". After only one class, it was clear I had stumbled upon a new favorite form of exercise. Not only did I love the physical challenges of spinning, but also it was also obvious that this was a lot of fun!
After another six months at RydeOn!, I continued to feel [motivated by my fitness results, but even more apparent, was how I felt inspired by the other instructors and participants in each class.  As a result, I decided to pursue the opportunity to teach, and earned my spinning instructor certification in May of 2017.  A self-proclaimed "numbers person" and music geek, I could not be more thrilled to take on a new role as an instructor. Aside from spinning, you may find me striking a yoga pose, swinging a golf club (or at least trying my best), or paddling /waterskiing at the lake in the summer.
Chelse Schults
Certifications: NASM CPT, CPR/AED
Chelse has been a health and fitness enthusiast her entire life. She started her journey through martial arts training with her mother and brother as a child. Tae Known Do gave her a foundation of mental discipline and physical strength which spurred a life long commitment to health and wellness. Chelse has since been involved with yoga, completing Baron Baptiste 40 days to Personal Revolution, multiple half marathons, a full marathon, and a Ragnar Relay (this year). Chelse enjoys an active lifestyle and loves to encourage those around her to join!