Instructors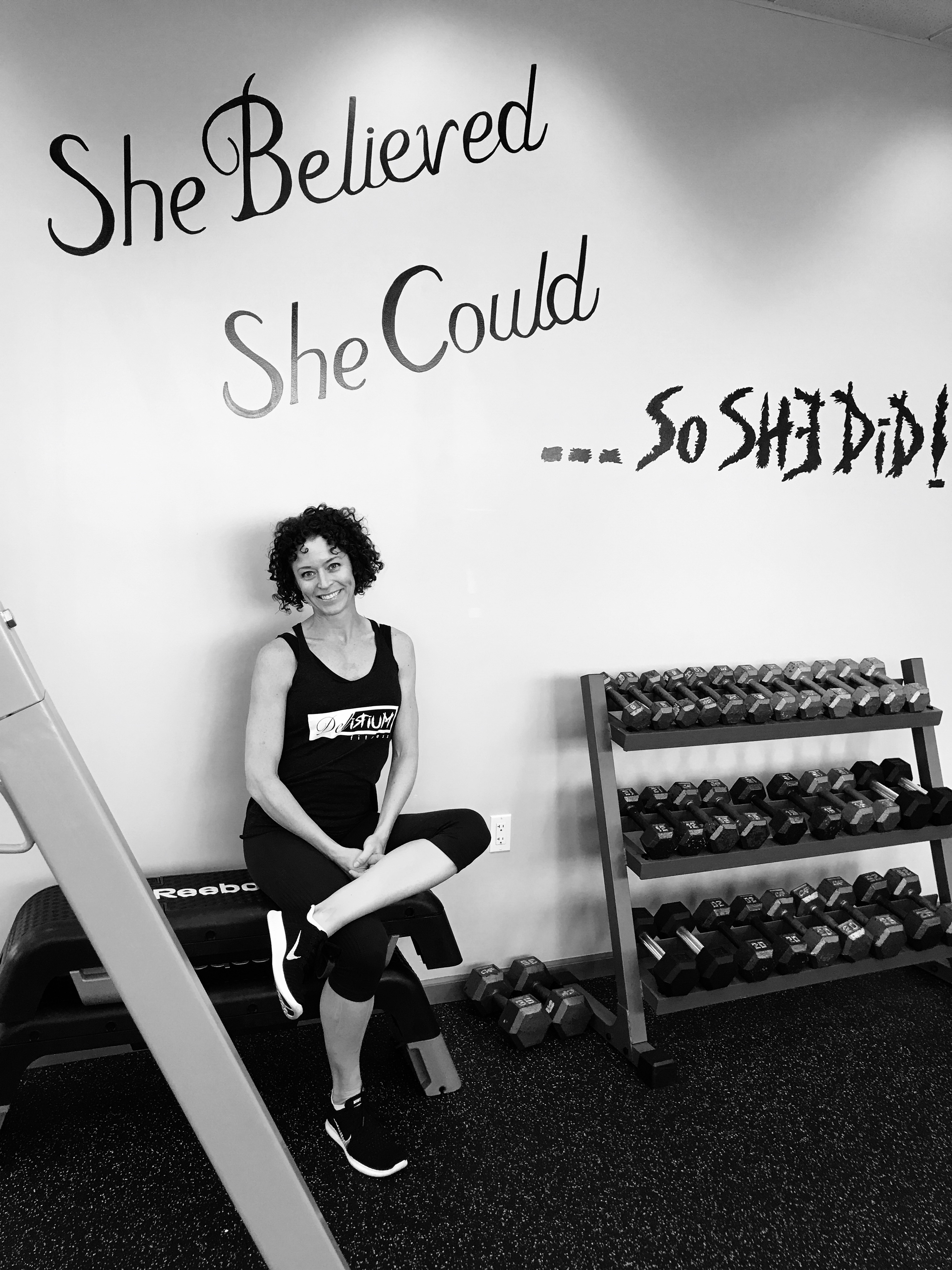 Delaura "Del" Baldwin
"The One With the Vision"
Owner, Fitness Director, Master Coach
Founder of Delirium Fitness, Del Baldwin, is, first and foremost, a mother of three.  Always a lover of movement and fitness, she grew up as a dancer.  During her college years at U of M and her young professional life as a video and film producer in Los Angeles and Las Vegas, she only periodically went to the gym to attend classes.
After getting laid off at age 35, however, she realized how out of shape she had become and decided to start running and focus on getting fit.  She ran her first mile since high school and began taking boot camp classes.  Seven months later, she ran a half-marathon.  She loved the way being fit made her feel stronger, and able to do things she never thought she could.  Wanting to share the way she felt with others, she decided to pursue training as a career.  Del attended National Personal Training Institute and received National Association of Sports Medicine-approved diplomas in Personal Training and Nutrition Counseling in 2009.
She began teaching classes on the beaches and in the parks in Southern California, and purchased a successful business that focused on women.  She had a support staff of five other instructors and over 120 members in 3 locations.  She ran this business for four years and doubled the sales.  During this time, she became more and more passionate about being a trainer.
After moving to Michigan, she started to try things out and get a feel for the new fitness climate. She taught classes at University of Michigan, Liberty Athletic Club, Workout 1, Saline Rec Center and Orange Theory Fitness.  She also began to take on some personal clients in her basement.  Soon, the business in her basement grew to 20 women taking classes together and supporting one another.
Delirium Fitness took on a life of its own!   After eighteen months, the business outgrew the basement and Del sought out a partner and new studio space to better serve the local women.
Del is so thrilled to have the opportunity to be able to serve women and assist them in their journey to be better, stronger, and more confident.  She believes women put themselves and their own well-being on the back-burner way too often, as she did for many years.  She tries to make it "easy" to commit through emotional support and offering challenging yet do-able classes that also push you to feel great.  She also aims to inspire people near and far with her involvement with Brooks Running.
She didn't grow up a runner, and she didn't start her professional life as a trainer at age 21, but it is because of this, she is able to relate better to her clientele, she is able to remember what it was like to "start", and she is ever-so-grateful to have been lead down this new life path.
"I believe the universe has put me here to inspire and ignite others through fitness."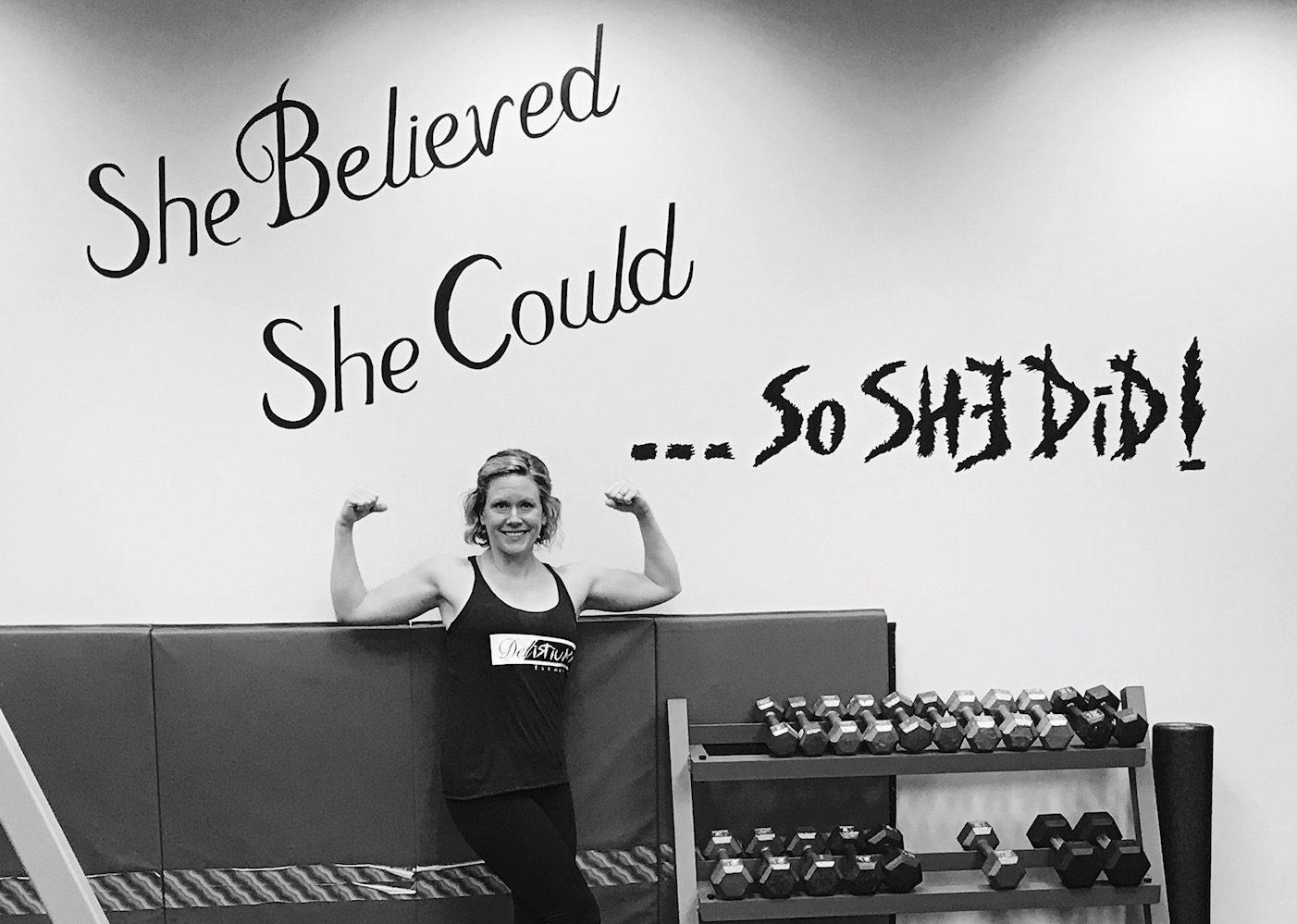 Lynn Bahena
"The One Who Makes it Happen"
Owner, Administrative Director, Coach
Lynn grew up active, participating in various sports throughout her young life.  In middle school and high school, she gained a love for competitive sports and participated in swimming, volleyball, field hockey, and track and field.  Her main focus was running where she was a high school regional champion and state finalist sprinter (fun fact: she still holds a high school record many, MANY years later!)  Her love of running and fitness continued into her adult life, and she turned from sprinting to endurance events, participating in 5K, 10K, half-marathon and relay races.  As a former high school teacher, she also continued involvement in competitive sports as a track and field and field hockey coach.
Shortly after moving to Ann Arbor to raise her family (Lynn has 2 young boys) and work part-time as a mathematics teacher, she found herself in need of two things: a new fitness studio and friends – she found both when she joined Delirium Fitness.
Recently, Lynn decided it was time for a change and began searching for new career opportunities.  At the same time, Del began searching for a way to grow Delirium Fitness, and the two decided to join forces.  Within three short months, Lynn became a NASM Certified Personal Trainer, co-owner and the Administrative Director of Delirium Fitness and couldn't be more excited about her new-found career!  She is looking forward to learning and growing as a trainer and also leading training programs as the studio's running coach.
"I've finally found my path in life and a career where I wake up excited to go to work every day!  I am passionate about helping others and strive to help empower other women through fitness!"
The Delirium Difference!

"I love working out with this supportive group of ladies. It makes my workouts one of the highlights of my day."

"I love Delirium Fitness! Each workout is different so it never gets boring. The classes are small so the trainers are able to give individualized attention.  After years of excuses I have found a place that I enjoy going to and a lot less excuses to not work out."

"Seriously, this place is awesome!!!  I am so grateful for Delirium Fitness and feel so much more alive these days. I'm over the age of 40 and in the best shape of my life! Delirium Fitness has helped me to greatly improve my diet, posture, confidence, and mental and physical strength!"

"I joined Delirium Fitness about 2.5 years ago. I am in my 40s and in the best shape of my life. The workouts are definitely challenging but the creativity makes them fun too.  Delirium Fitness is challenging, inspiring and fun all at the same time. You should come check it out!"

"Delirium workouts are always challenging, varied, and fun. Trainers are incredibly professional and easy to work with."

"Delirium Fitness is fabulous! Personal attention is paid to each individual in order for them to meet their goals.  Highly recommended!"

"I can honestly say over the past year I have not done the same workout routine twice. Each session I was completing different exercises with the same result: drenched in sweat with muscles shaking and the feeling of complete accomplishment! Del never failed to surprise me with a new challenge and encouragement when I needed it the most."

"I am thrilled to have found Delirium Fitness. I am able to push myself physically in the supportive company of fabulous women with the expertise and encouragement of instructors who are dedicated to improving strength, endurance, and awareness of the mind-body connection. I am truly thankful for Delirium!"

Love that the trainers keep track of each of our performances throughout the workout. The personal touch to the workout at Delirium Fitness is truly the difference here. The trainers manage each of our workouts at the level we are at and progress us to help us achieve our very best. Heart monitors are only one of the tools they utilize. Their keen eye and taking the time to know each and everyone one of us is the greatest advantage here. Whether it's heart monitoring or form, it's keep me h…

"I have been a gym rat for the better part of 25 years and can say without hesitation that Delirium Fitness has been one of the best  nutrition/fitness programs that I have had the pleasure of working with."