Due to our Founder and Co-Owner, Del Baldwin, relocating to North Carolina with her family, our studio will be closing its doors on February 21st.
We hope to see many of our current and past Delirium Fitness members at our 'Final Sweat' on February 22nd!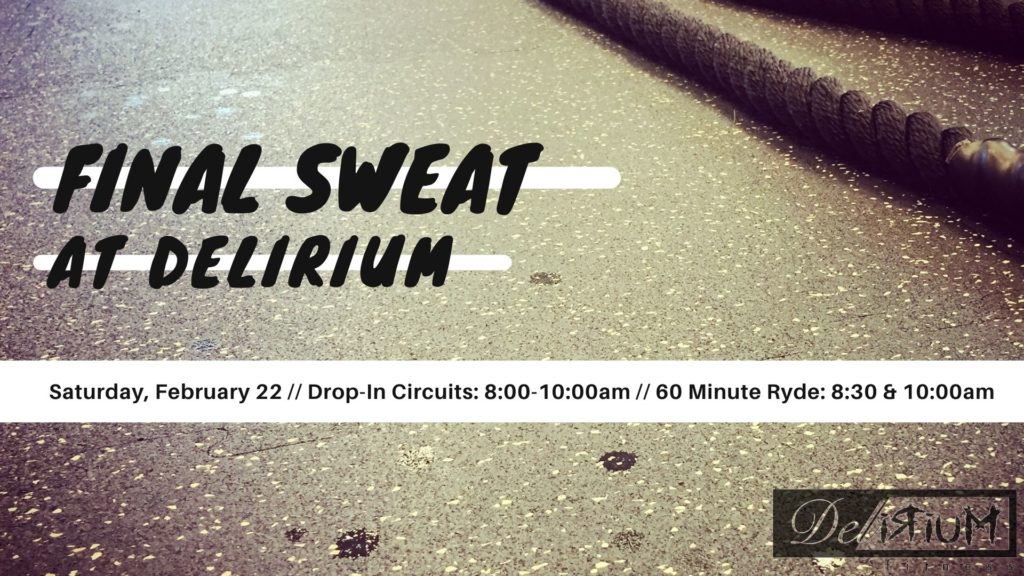 If you are interested in continuing circuit training, we highly recommend checking out Applied Fitness Solutions. If you are interested in continuing indoor cycling, we recommend following our bikes and some of our instructors to the Saline Rec Center!
For more information on the process of transitioning to AFS, check out this video!
Delirium Promo from Applied Fitness Solutions on Vimeo.
Below is a welcome letter and updated fitness schedule from the Saline Rec Center:
The Delirium Difference!

"I am thrilled to have found Delirium Fitness. I am able to push myself physically in the supportive company of fabulous women with the expertise and encouragement of instructors who are dedicated to improving strength, endurance, and awareness of the mind-body connection. I am truly thankful for Delirium!"

"I love working out with this supportive group of ladies. It makes my workouts one of the highlights of my day."

"Delirium is the best! Fun, challenging workouts tailored to your individual needs and goals, knowledgeable, motivating trainers, and an awesome, supportive group of women!"

"I can honestly say over the past year I have not done the same workout routine twice. Each session I was completing different exercises with the same result: drenched in sweat with muscles shaking and the feeling of complete accomplishment! Del never failed to surprise me with a new challenge and encouragement when I needed it the most."

"I have been a gym rat for the better part of 25 years and can say without hesitation that Delirium Fitness has been one of the best  nutrition/fitness programs that I have had the pleasure of working with."

"Delirium workouts are always challenging, varied, and fun. Trainers are incredibly professional and easy to work with."

At Delirium Fitness, they know that not everyone has the same fitness needs or goals.  Each member is given choices to tailor their workout experience and support to achieve their individual goals.

"Seriously, this place is awesome!!!  I am so grateful for Delirium Fitness and feel so much more alive these days. I'm over the age of 40 and in the best shape of my life! Delirium Fitness has helped me to greatly improve my diet, posture, confidence, and mental and physical strength!"

"I joined Delirium Fitness about 2.5 years ago. I am in my 40s and in the best shape of my life. The workouts are definitely challenging but the creativity makes them fun too.  Delirium Fitness is challenging, inspiring and fun all at the same time. You should come check it out!"

"I love Delirium Fitness! Each workout is different so it never gets boring. The classes are small so the trainers are able to give individualized attention.  After years of excuses I have found a place that I enjoy going to and a lot less excuses to not work out."