Size Matters!
Discover the Delirium Difference
Size matters!?
Absolutely!
Bigger is NOT better when it comes to your workout environment.
Have you ever been in a workout environment where you might as well have been invisible to the instructor? Have you ever walked into a class and not been greeted with a warm smile and an assurance that the instructor was happy to see you? Have you ever dragged yourself to a class and felt so disconnected and confused as to what you should be doing and how you should be doing it that you didn't feel much better when it was over?
Or what about my favorite: They know your name, they smile and make eye contact, but everything they say is scripted and disingenuous?   It's like being at Disney World and hearing the ride operators or on an airplane listening to the safety rules rattled off by the flight attendant. Sure, there are times when they might be entertaining and even informative, but a in a training situation? Are they actors or trainers?
"Keep your arms and legs inside the vehicle at all times"
Forget the personal parts of it. The instruction and material itself matters, too! What about when the workout isn't appropriate for half the people in the room (and often not appropriate for anyone!) but the instructor doesn't have time to work with people to make sure they have modifications so they don't get hurt? Or, even for those who are capable, making sure they are activating the right muscles and performing the proper form, full range of motion, etc.
Ummmm…?
What about those old-school classes where the instructor is actually doing the workout WITH you and 20-30 other people?! When it comes to aerobics classes, I get it, but when it comes to strength training and true HIIT cardio, it is NOT the instructor's time to workout.
I'm sure this instructor wasn't able to correct form with this many people, and of course she/he was busy getting in their own workout! 
Note: none of the people in this picture have their tailbones tucked under….a classic recipe for lower back injuries!
Let's not forget about physical space and cleanliness. Ever been packed in like sardines and unable to have any personal space? Ever wondered why half the equipment is broken and the corners have cobwebs? How about acoustics and understanding your instructor over the mic?
And, when you don't show up for a week, do you get a call or a text from somebody who NOTICED, and not just a red flag on your account?
Are your personal bests kept track of and constantly updated? If you are slacking on weight choices or speeds, does your trainer notice and "call you on it"? Does your trainer know your weaknesses and your strengths, and make sure you are pushed to work on your weaknesses?
We know our members' goals and abilities and we are always holding them to their best standards.
You see, size matters. You cannot be given a great experience with one trainer and a group of anything over twelve maximum. And the reason why so many gyms want to pack you in is to make money. Not to give you the best experience possible. And, yes, it might be cheaper, (because it has the number of people behind it paying the bills!) but just like bigger is not better, cheaper is definitely not better when it comes to your body and health.
You should be greeted by name; your trainer should know that today might have been a hard morning by the look on your face and by your body language.
If your trainer doesn't know your injuries and what modifications to give you and have the time to give them to you, you are not in the right place.
You should continually be given challenges. When one thing improves, your trainer should find something else to work on with you.
You should be watched like a hawk on form.
The workouts should be well thought-out, safe, and use specific muscle groups on specific days.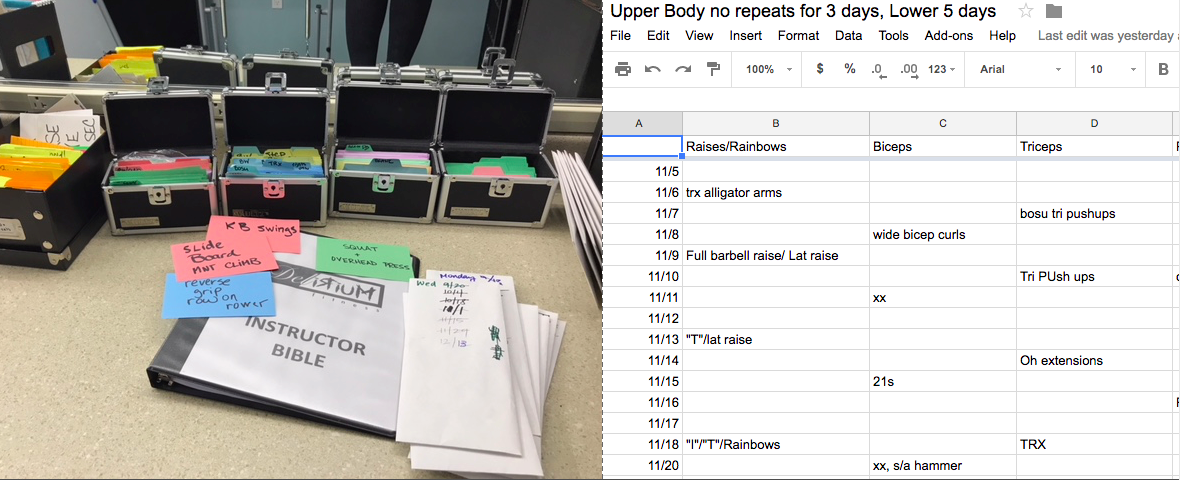 Our color-coded card system, Instructor "Bible" and exercise tracking spreadsheet ensure safe, effective, and well-rounded workouts.
Your heart rate should be constantly monitored (closely!) and your goals on speed, recovery, etc. consistently adjusted.
We not only watch heart rates during class, but request results of the overall workout to ensure we are planning the workouts correctly!
Your environment should be clean and safe.
You get what you pay for, and small group personal training is THE WAY to go.
Our mission is: "To give EVERY MEMBER the BEST workout experience of her life!"
We continually encourage our members to maintain healthy habits outside of the studio!
We want to change the way you move, the way you feel. We want you to fall in love with fitness and incorporate it into your life — FOR LIFE.
Just ask any one of our "Deliriums"……
"Seriously, this place is awesome!!!  I am so grateful for Delirium Fitness and feel so much more alive these days. I'm over the age of 40 and in the best shape of my life! Delirium Fitness has helped me to greatly improve my diet, posture, confidence, and mental and physical strength!"
–Valerie H.
"I joined Delirium Fitness about 2.5 years ago, and I'm now in the best shape of my life. The workouts are definitely challenging but the creativity makes them fun too.  Delirium Fitness is challenging, inspiring and fun all at the same time. You should come check it out!"
– Michelle K.
"Beautiful facility filled with wonderful women who were so welcoming and encouraging. There is a focus on proper function and instructors know what they are doing. If you want to find a gym family to support you in your journey, this is the place!"
– Kristen B.
"Delirium is the best! Fun, challenging workouts tailored to your individual needs and goals, knowledgeable, motivating trainers, and an awesome, supportive group of women!"
– Anna C.
"I love Delirium Fitness! Each workout is different so it never gets boring. The classes are small so the trainers are able to give individualized attention. I feel like I get so much more benefit from the workouts because the trainers work with me on my form. After years of excuses I have found a place that I enjoy going to and a lot less excuses to not work out."
– Tami E.
Written by:
Delaura "Del" Baldwin
NPTI Personal Trainer & Nutrition Consultant, AFA Group Fitness Instructor
Co-owner, Fitness Director, and Master Trainer at Delirium Fitness